Subsurface scattering is an important effect in rendering many types of organic surfaces. When light is able to penetrate the outer layer of a surface, scattering occurs, causing a softening of the diffuse shading. In complex surfaces like human skin, different depths scatter different colors, which can be seen at the shadow boundary
Light may also be able to be seen through the object, as you would see when a human ear is lit from behind. The deeper the light travels, typically, the more saturated it is. The SSS shader in Maya only works for objects with volume, so if you are trying to create translucent effects in thin objects, like leaves, or paper, see my tutorial on translucency.
Some examples of materials or subjects that would benefit from SSS are: Skin Food: Cheese, grapes, Seashells Thin plastic
The most versatile SSS shader in Maya is the misss_fast_skin_maya Below is a flowchart of how all the elements in the shader work together, which I will explain: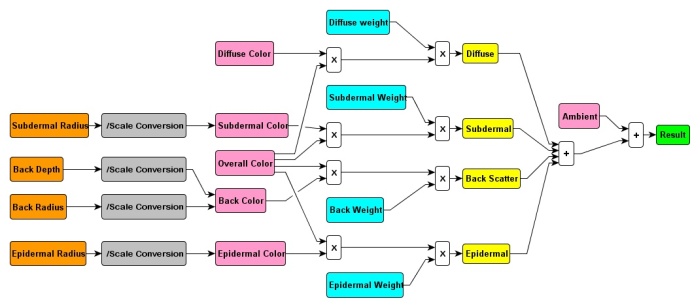 It is important to note, that the trickiness in developing this SSS shader, is that the final color of the material is the result of the adding up of several diffuse layers (Yellow).
I'll go over the methodology for developing human skin first, but first an explanation of the different options.
The scatter radius for the SSS layers is in millimeters, as is the back scatter radius. It is likely that the default values for the shader are way too high, resulting in very grainy shading quality. If you still have graininess after lowering the radius values, the samples for the lightmap can be increased, preferably in powers of 2
The scale conversion number is designed to allow the user to be able to port the shader with tuned values to another scene/object where the scale of the target object is different that the one which the shader was originally created. All of the radius/depth values are divided by this number.
When adjusting the shader, it is best to first work on each layer separately by turning the other weights off.